INDOOR POINT ID INTRUSION SYSTEM
XENSITY is an intrusion detection system which employs seismic sensors capable of perceiving – depending on the model – opening, burglary, cutting, drilling and breaking through attempts against the protected structure. The last version of the detectors for doors, windows and walls employ the new technology DEA Data Fusion (DSF).
The sensors are fixed to doors, windows, glasses, burglar bars, walls and safes. A specialized detector is available for each type of structure.
The system employs the same technologies and has the same construction quality as the outdoor perimeter systems dedicated to critical infrastructures. Such feature makes XENSITY suitable for different areas of application, including high risk ones, such as VIP's villas, banks and malls.
The system employs electronic shock sensors which perceive the impacts and the vibrations to which the structure is subject following an intrusion attempt. The sensors for doors and windows are available with anti-masking magnetic contact to detect the opening of the structure.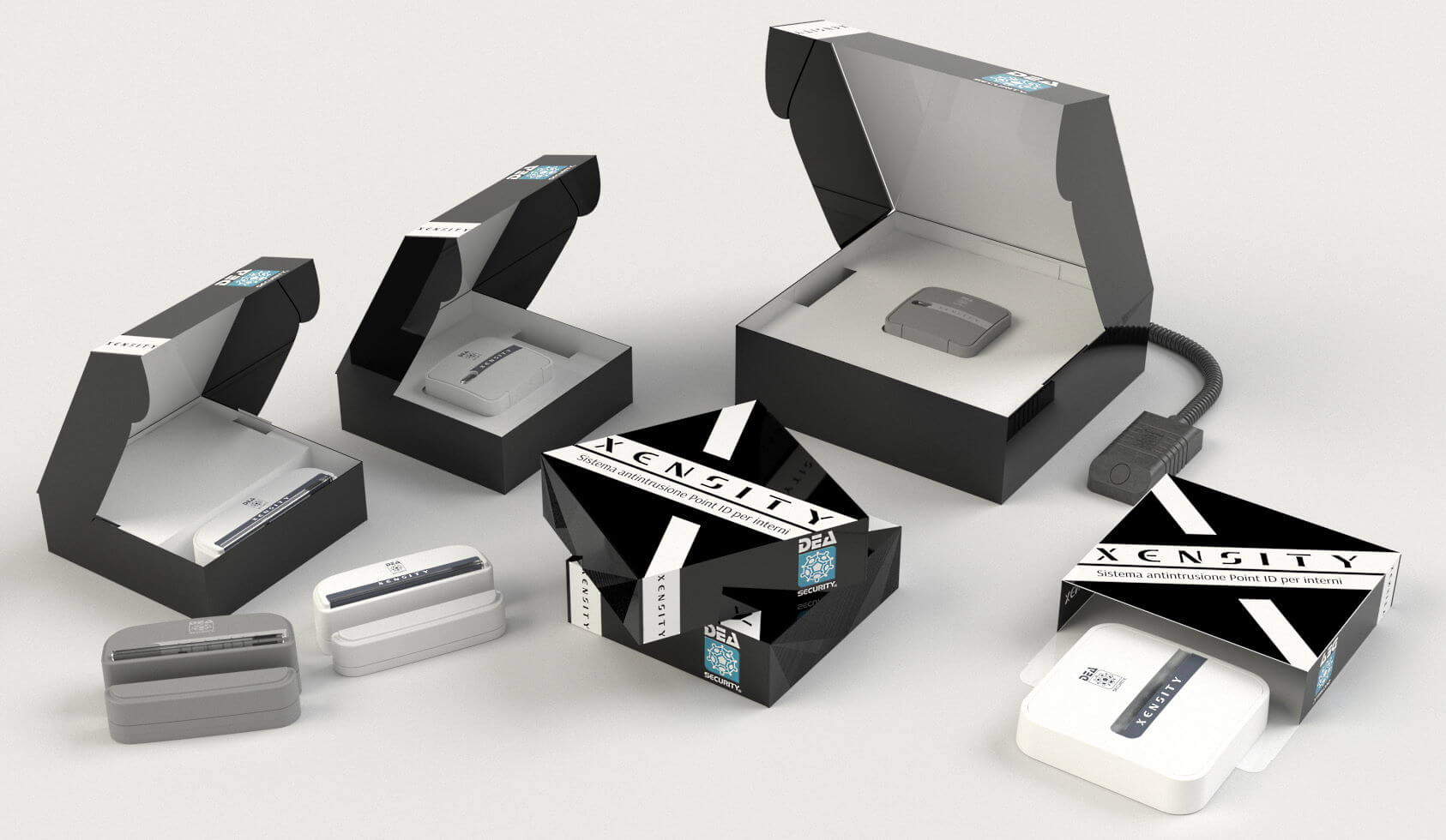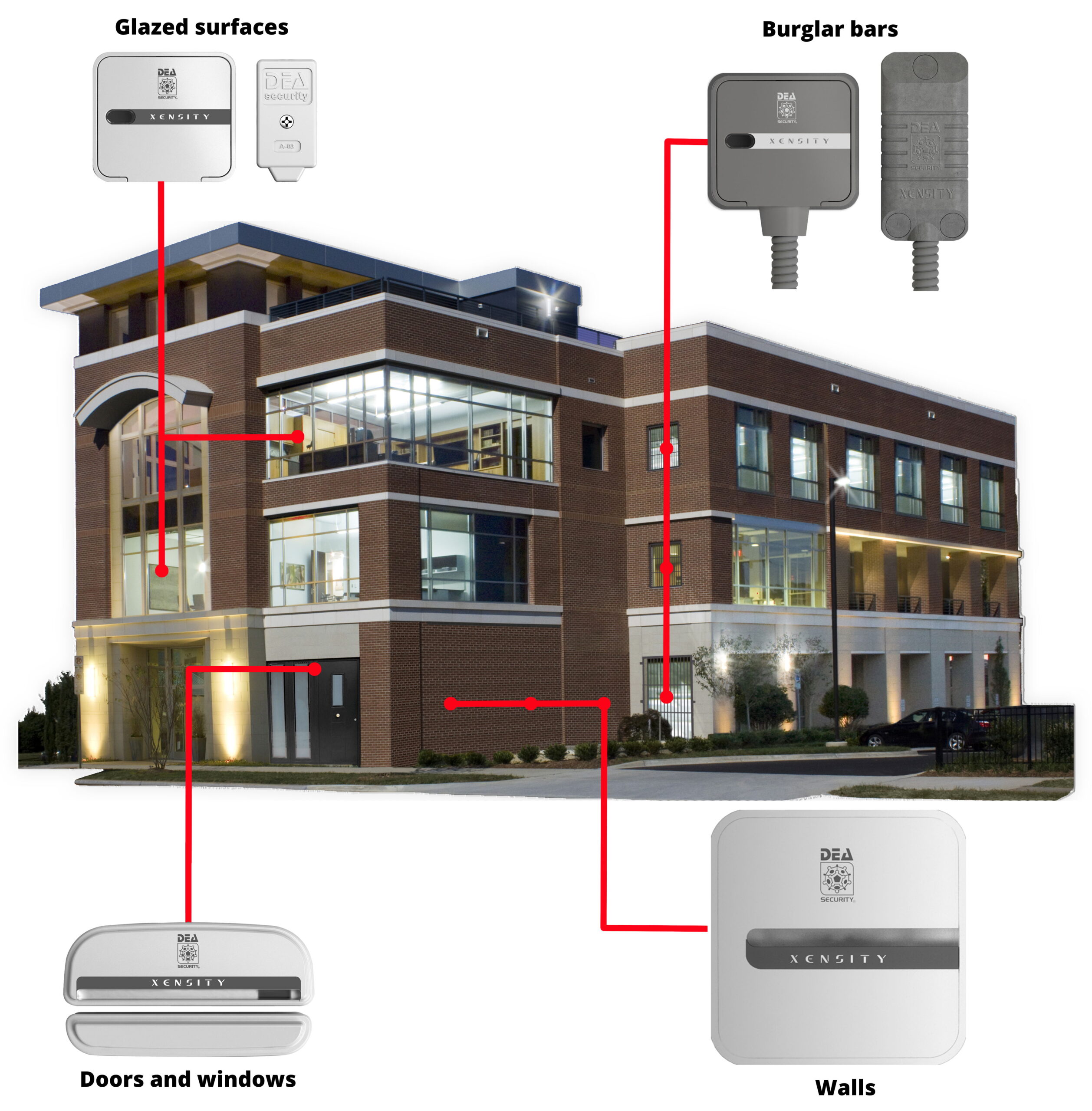 Currently XENSITY includes 3 detector models: XS-DOOR, for the protection of doors and windows against burglary, breaking through and opening; XS-GRID, for the protection of burglar bars against breaking, cutting and breaking through attempts; XS-WALL, for the protection of walls against breaking, breaking through and drilling. The protection of glass surfaces is instead effectuated by using detection modules composed of a SERIE A03 PRO sensor and an XS-PU interface board. The latter contains a digital analysis unit and can be also used to integrate third-party devices, such as magnetic contacts.
The detectors communicate with XS-CTRL electronic controller boards: the most powerful of them manages up to 64 sensors on a single communication bus. Such controller boards enable you to easily configure and monitor even the most complex systems: from a locally connected PC or from remote station (also via IP network) you can calibrate and program sensors and interfaces, you can view their status and monitor their operating parameters.
 THE MOST IMPORTANT ADVANTAGE 
Featuring professional functionalities conceived for the most critical applications such as in banking and industrial environment. Thanks to the DSF technology, which relies on a combination of a PIEZO transducer and a MEMS accelerometer, these features have been enhanced to the utmost.
DEA Sensor Fusion technology
DEA Sensor Fusion (DSF) is a signal processing technology employed in DEA's latest generation intrusion detection systems. Its peculiarity is that it combines, in a single detector, two different types of sensitive elements: a PIEZOELECTRIC transducer and a MEMS accelerometer.
The data acquired from the two sources of signal are analysed using adaptive intelligence algorithms: these algorithms integrate this information, make real time decisions based on the knowledge implemented in the firmware and based on the environment perception.
The adjective which best describes the DSF technology is "holistic", namely the functional sum of the two transducers, PIEZO and MEMS, is higher than the sum of their performance taken individually. In other words, DSF goes beyond the limits of these single technologies and, combining their key benefits, reaches an unmatched level of reliability.
Thanks to DSF, the new generation of DEA detectors are able to adapt to a greater variety of structures, materials and operating conditions, always keeping the highest performance. And all this without complex and boring calibration activities: in most cases it will be sufficient, during the first configuration of the system, to select the type of structure to be protected.
Smart sensors with DSF technology
The detectors contain the electronics necessary to process the signals and actively communicate with the controller board. The last generation of sensors for doors, windows and walls are equipped with the DSF PIEZO/MEMS technology.
Self-test function
A special self-test function continually checks the functioning of each sensor by promptly signalling potential failures.
Simplified management
The system is easy to be managed even in case of big and complex installations, such as the ones composed of several alarm points on different floors or areas of a building.
Protection of different types of structure
Thanks to its specialized sensors, XENSITY can be employed to protect doors, windows, burglar bars, glass surfaces, walls, safes and other types of structure.
Integration with third-party devices
The system can manage signals coming from most third-party detectors.
Remote centralized management
The system can be configured and managed either locally or remotely via IP network; in addition, it can be connected to DEA MAP supervision software.
Smart analysis
The analysis units employ sophisticated algorithms which process the signals perceived by the sensors and discriminate the different attack techniques against the protected structure.
Made in Italy
All of the detectors and the analysis boards are designed, produced and assembled in Italy, at DEA SECURITY's factory, using high-quality components and materials.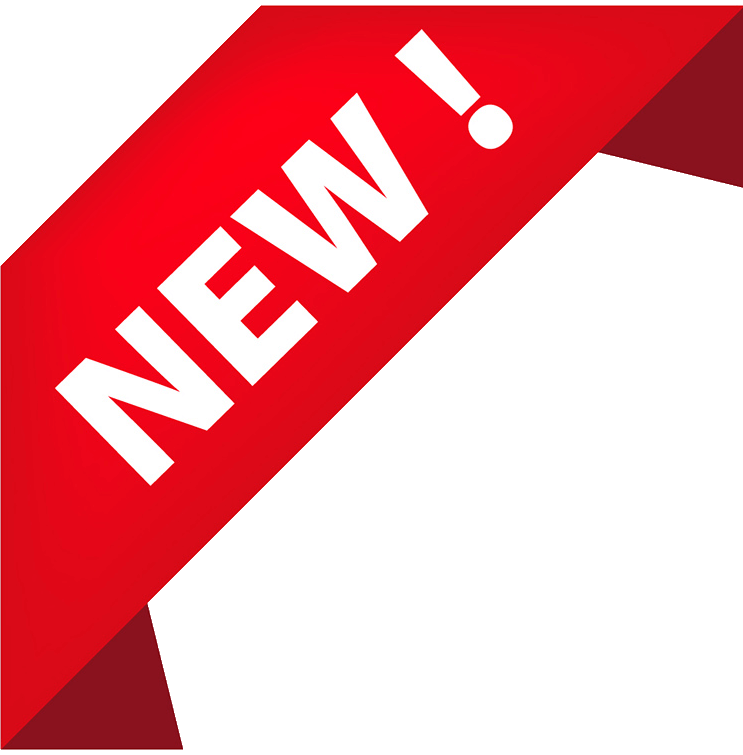 Integration with SISMA CA/PF
Thanks to the new BR-XS-SMCAPU interface card, the underfloor intrusion detection systems SISMA CA (concrete screed floors) and SISMA CA PF (floating floors) now enter the XENSITY ecosystem. The updated version of the XENSITY service software, capable of recognizing the new interface card, allows the type of sensor connected (CA or CA PF) to be selected and its sensitivity and security level adjusted. All this can also be done remotely via an IP network.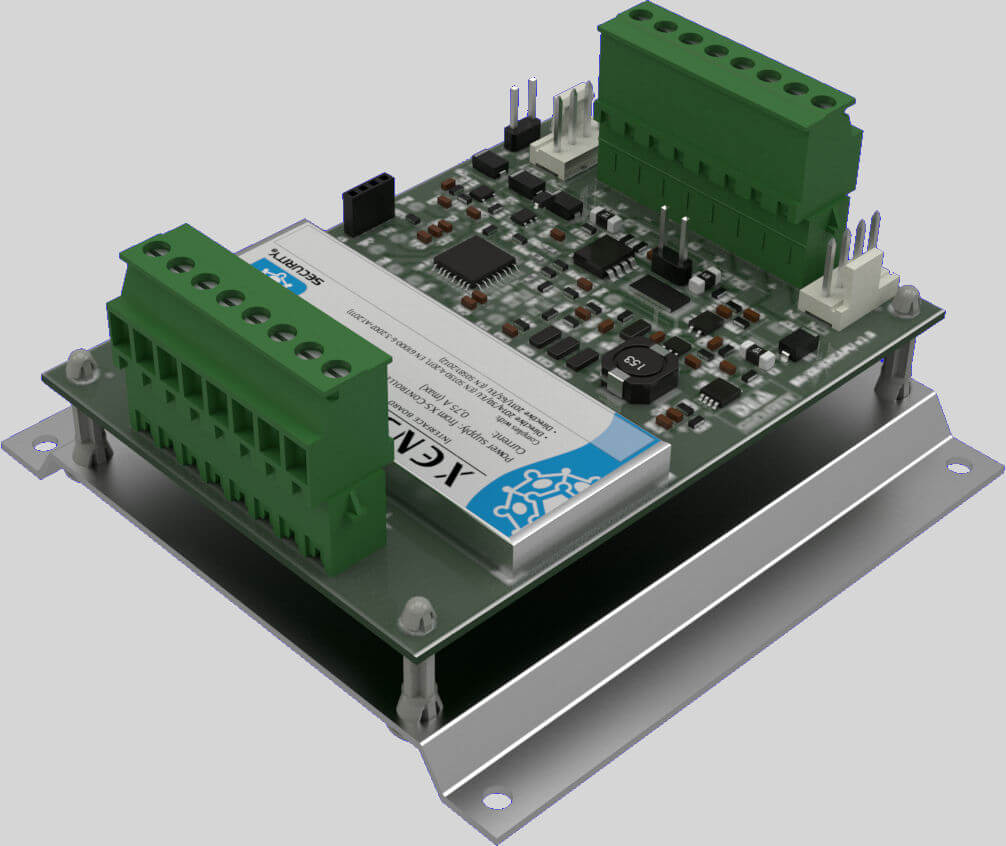 SN-XS-FDRx(M) for doors and windows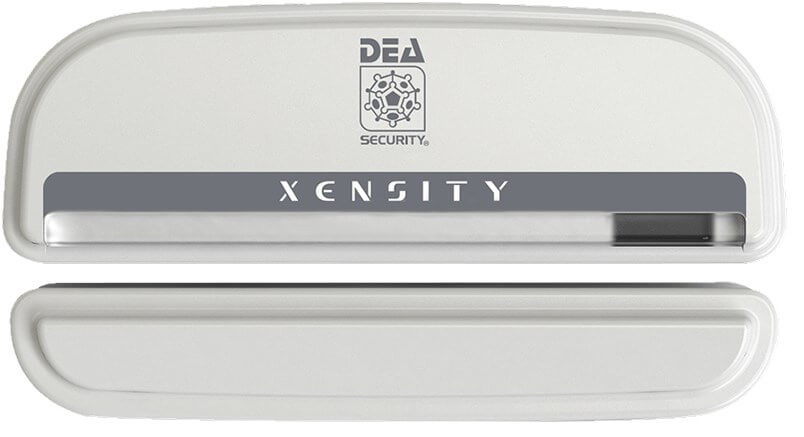 SN-XS-FDRx detectors, with DSF technology, protect doors, windows and skylights from burglary, breaking through and opening events. Opening detection is provided by the sensor model equipped with magnet (part number SN-XS-FDRxM), and it is coupled to an electronic sensor with magnetic anti-masking function, which signals the attempts of circumventing the detector by exposing it to magnetic fields.
Coupled with processing board, the SN-A03P-DRM detector is certified Security Grade 3 – Environmental Class II according to EN 50131-2-6 (IMQ-Security Systems certification).
MD-XS-GR for burglar bars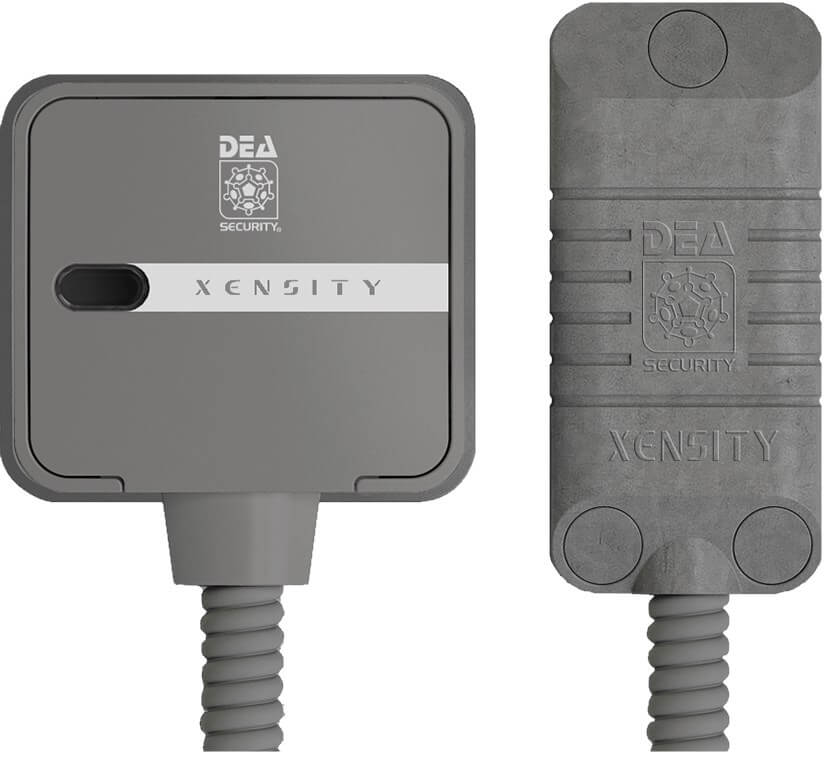 The MD-XS-GR detection module protect burglar bars and security grilles against cut, breakthrough and shocks.
Designed to operate in outdoor environments, XS-GRID sensors are provided with a heavy-duty housing and a tconnection cable protected with flexible metal sheah.
The analysis unit is not embedded in the sensor, as in XS-DOOR sensors, but it is contained in a separate small module.
SN-XS-FWL for walls and armoured structures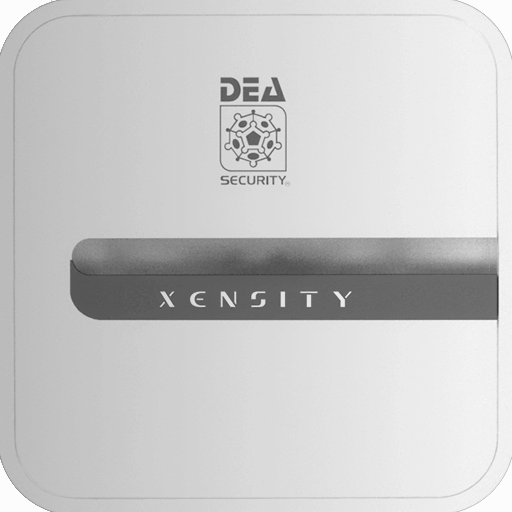 SN-XS-FWL detector protects walls and armoured structures from breaking, breaking through and drilling with diamond core saw. It can be installed on different types of wall, including brick, tuff, reinforced concrete and metal (safes and armoured cabinets). It is equipped with anti-tamper devices to signal thermal tamper and removal or opening of the sensor case. It can also manage two triple-balanced lines to integrate passive third-party devices.
Certified Grade 3 – Environmental class II in accordance with standard EN 50131-2-8 (IMQ-Security systems certification).
BR-XS-PU + SN-A03P-GL for glass surfaces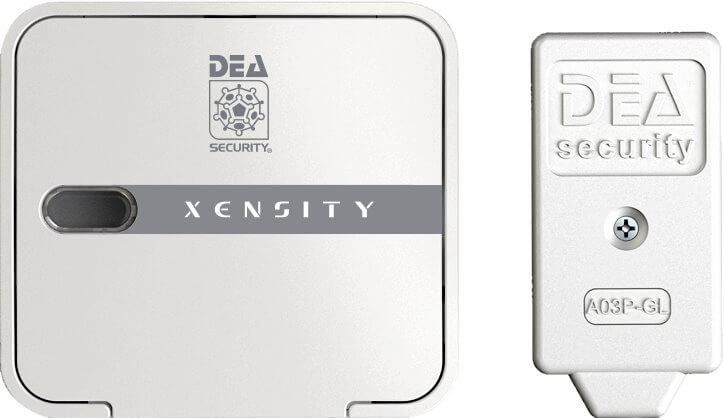 BR-XS-PU addressable detection board connected to a SERIE A03 PRO sensor specific for glass (part number SN-A03P-GL) protects glass doors and windows against breaking and drilling with diamond core saw. Easy and quick to install, the module is compatible with any type of glass, including single-layer tempered glass and multi-layer shatterproof or bulletproof glass.
The electronic controller boards supply all of the sensors and interface boards connected to them and check their operating status. In addition, they collect and store the alarm signals coming from each sensor, making them available through relays, over DEA NET proprietary network or over IP.
The controllers, available in the versions for 32 or 64 sensors/peripheral devices, are supplied with service software (please see below) which enables you to configure and monitor the system also from remote position, simplifying the start-up and the maintenance of complex installations.
Controller boards for 32 or 64 sensors/peripheral devices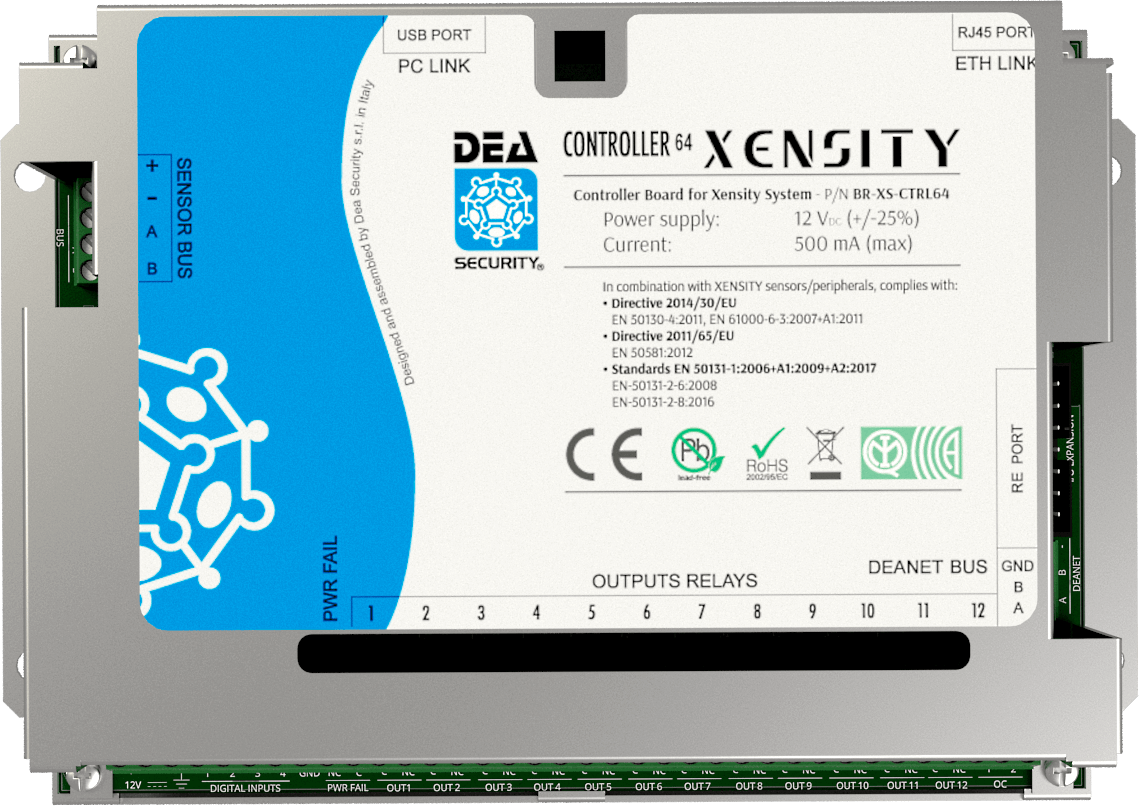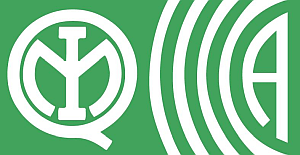 If coupled with XS-DOOR sensors equipped with magnetic contact, the controller boards comply with Security Grade 3 – Environmental Class II in accordance with standard EN 50131-2-6:2008 (IMQ certification CA12.01768).
The relay expansion board extend the number of alarm outputs of the controller boards and allow you to assign such outputs (C/NC contacts) to different signals: alarm, failure and/or tamper. A single expansion board provides 16 external relay outputs and each controller can manage – depending on the model – from 4 to 6 expansions.
All of the external relays can be programmed through the service software of the controller boards.
16-relay expansion board for controller 32/64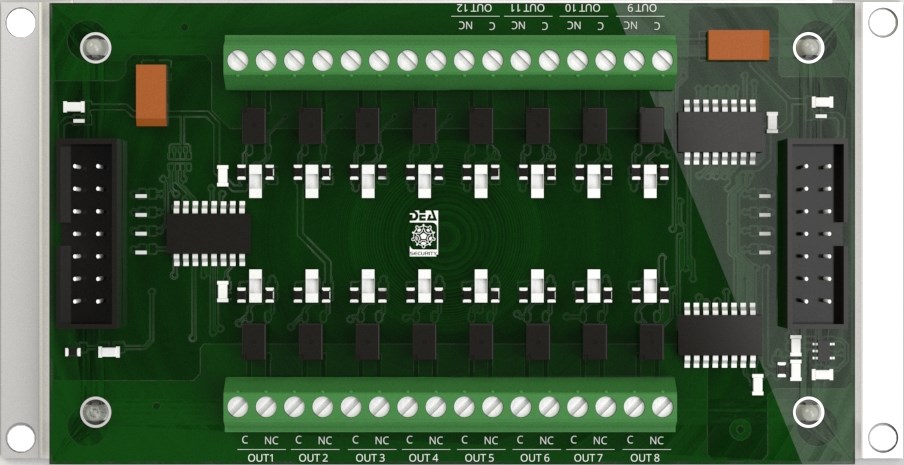 XENSITY service software enables you to manage the system from a locally connected laptop (USB or Ethernet port) or from remote station over IP network. By software you can:
acquire all the sensors, the relays and the peripheral devices in an automated way;
calibrate and program the sensors with few mouse clicks;
monitor the operating parameters of the system, such as voltage, current and link quality;
check the status of the digital inputs and relay outputs;
view the alarm signals on a real-time 3D graph;
promptly check the correct functioning of each sensor or detection module;
view or download the alarm event log.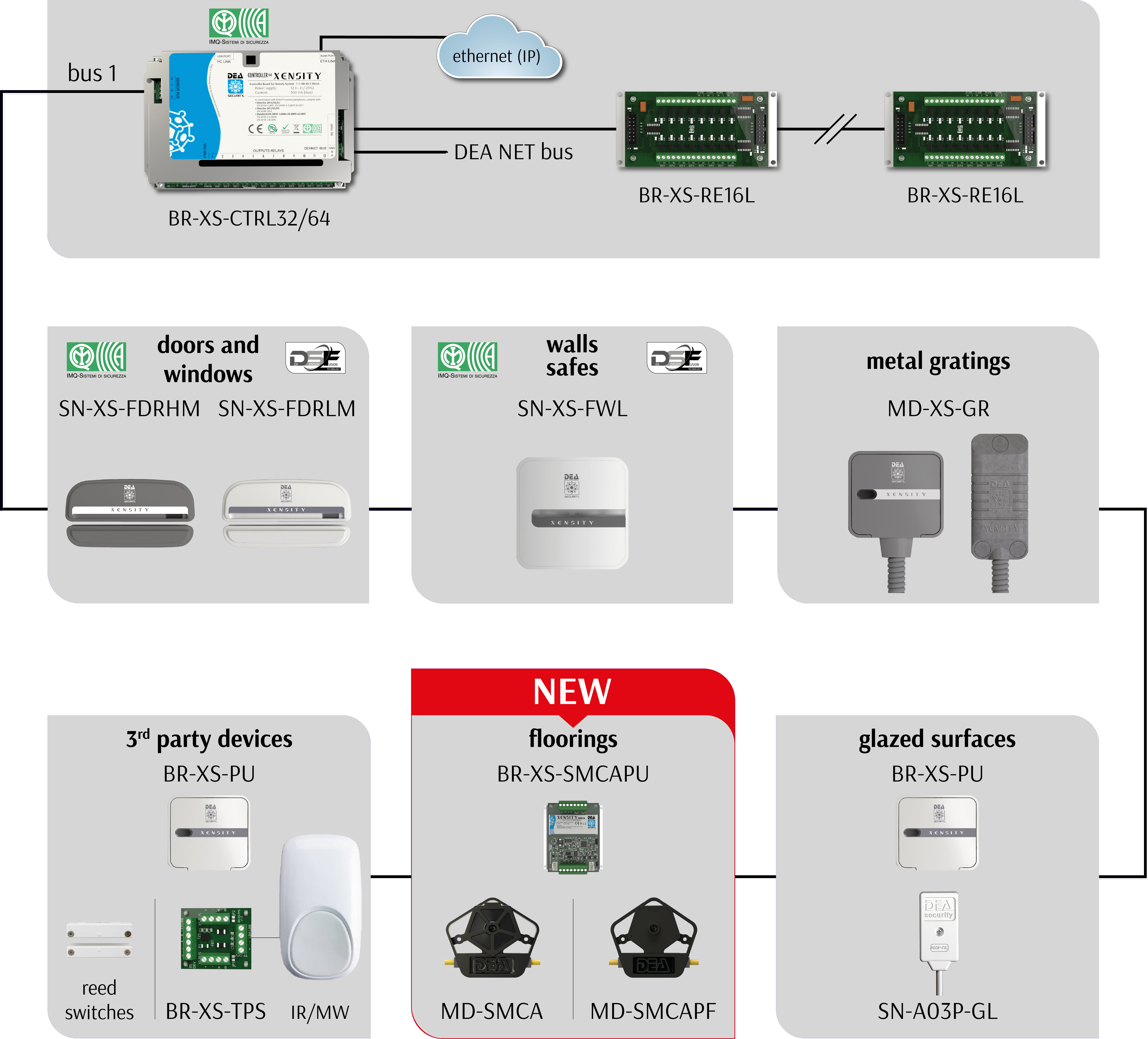 Any question? Contact us!
XENSITY | Indoor Point ID intrusion system