INDOOR POINT ID INTRUSION SYSTEM
XENSITY is a Point ID intrusion detection system using special piezoelectric sensors for the protection of doors, windows, glass surfaces, security grilles and walls.
XENSITY has moved into the world of indoor security – houses, offices, banks and businesses – the same technologies developed by DEA Security for the outdoor perimeter protection of high risk compounds. Among those technologies we can mention the capability of identifying the single sensor under alarm (Point ID), the self-diagnosis function, the thermal and magnetic tamper detection, the centralization of the alarm signals and the remote management of the system over IP.
Currently XENSITY product line is composed of two families: XS-DOOR for the protection of windows and doors from shocks, break-through and opening, and XS-GRID for the protection of security bars and grates against cut , break-through and shocks. While waiting for the development of XS-WALL and XS-GLASS sensors to be completed, the protection of glass doors/windows and walls is currently relying on addressable detection modules composed of a SERIE A03 or SERIE A03PRO sensor and an XS-PU interface board. The latter is featured by a digital analysis unit and can be also used to integrate 3rd party devices, like magnetic contacts, into XENSITY system.
The detectors communicate with XS-CTRL electronic controller boards: the most powerful of them manages up to 128 sensors on two communication buses (64 sensors each bus). Such controller boards enable you to easily configure and monitor even the most complex systems: from a locally connected PC (USB) or from remote station (Ethernet/Wi-Fi) you can calibrate and program sensors and interfaces, you can view their status and monitor their operating parameters.
Distributed intelligence, Point ID detectors.
The detectors are featured by embedded electronics processing the signals and actively communicating with the controller board.
Self-diagnosis function on each sensor.
It promptly signals failures or other possible malfunctions.
Simplified management.
The system is simple to manage even in the case of large and complex installations, for example a system featured by many alarm points distributed on more floors or sectors of a building.
Protection of different types of structure.
One detection system protecting doors, windows, gratings, glazed surfaces and walls.
Integration with 3rd party security devices.
The system can manage the signals coming from the most part of 3rd party detectors.
Centralized management.
The system can be configured and managed locally or over IP and can be also connected to
DEA MAP
supervision software.
Smart signal analysis.
The analysis units use sophisticated algorithms that process the signals perceived by the sensors and discriminate the different attack techniques to the protected structure.
Made in Italy.
All the detectors and the analysis boards are designed, produced and assembled in Italy at DEA Security's factory, using selected components and materials. Each single product is subject to accurate tests.
PROTECTION OF WINDOWS AND DOORS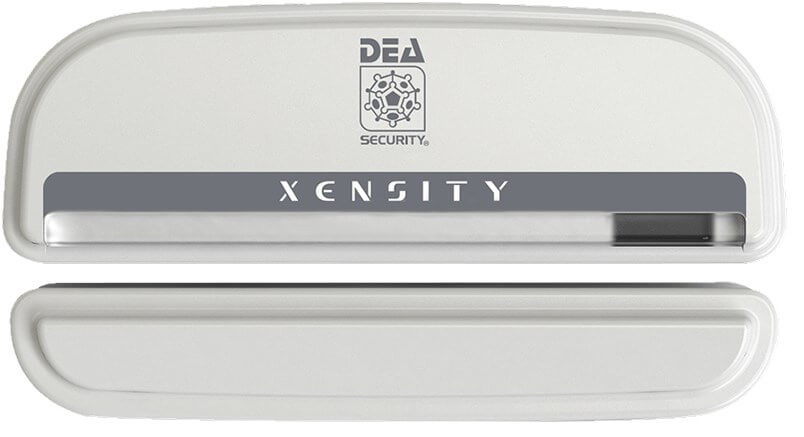 The
XS-DOOR
sensors
protect windows, doors and skylights against shocks, breakthrough and opening
. The opening is detected by the sensor models equipped with magnet and is combined with an electronic sensor featured by a magnetic tamper function which detects all attempt to circumvent the detector by exposing it to magnetic fields.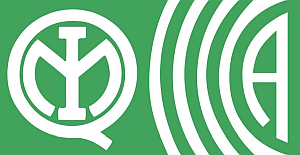 Compliant with Grade 3 – Environmental class II of EN 50131-2-6:2008 (IMQ CA12.01768 certification).
PROTECTION OF BURGLAR BARS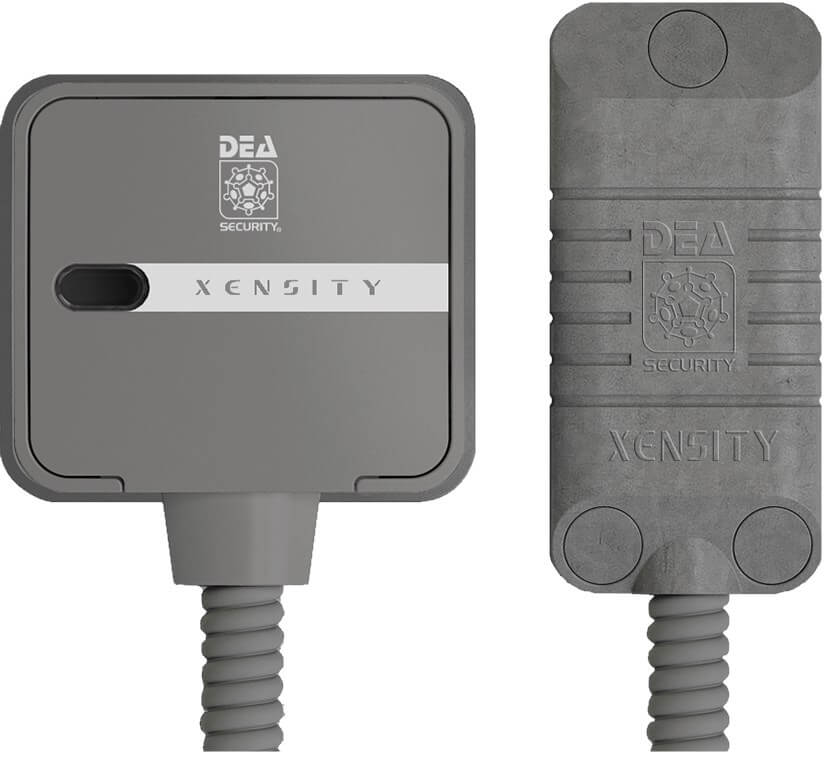 The XS-GRID sensors protect burglar bars and security grilles against cut, breakthrough and shocks.
Designed to operate in outdoor environments, XS-GRID sensors are provided with a heavy-duty housing and a connection cable protected with flexible metal sheath.
The analysis unit is not embedded in the sensor, as in XS-DOOR sensors, but it is contained in a separate small module.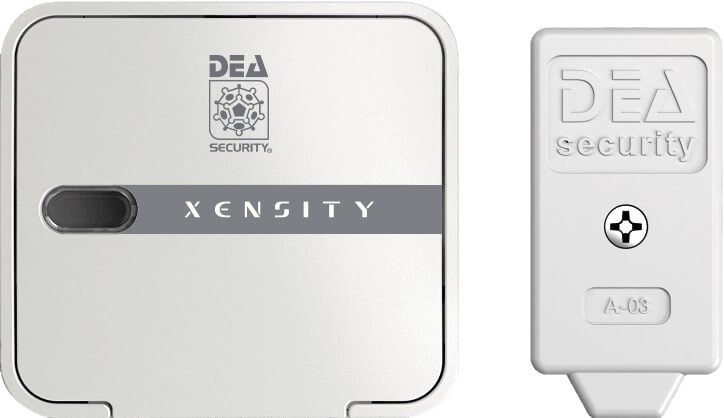 XS-PU addressable detection module connected to the SERIE A03 or SERIE A03PRO sensor specific for the protection of glass doors and windows against breaking and drilling with diamond core saw. Easy and quick to install, the sensor is compatible with any type of glass, including single-layer tempered glasses and multi-layer shatterproof or bulletproof glasses.
XS-PU addressable detection module with SERIE A03 or SERIE A03PRO sensor for the protection of masonry and reinforced concrete walls. The sensor is fixed on the inner side of the structure to be protected and detects breakthrough attempts and drilling with diamond core saw or other mechanical tool.
The electronic controller boards supply and check the operating status of all the sensors and the interface boards connected to them. In addition, they collect and store the alarm signals coming from each sensor, making them available through relays, over DEA NET proprietary network or over IP.
The controllers are provided with a service software (plese see below) which enables you to configure and monitor the system from remote position, simplifying the start-up and the maintenance of complex systems.
Controller board for 128 sensors/peripheral devices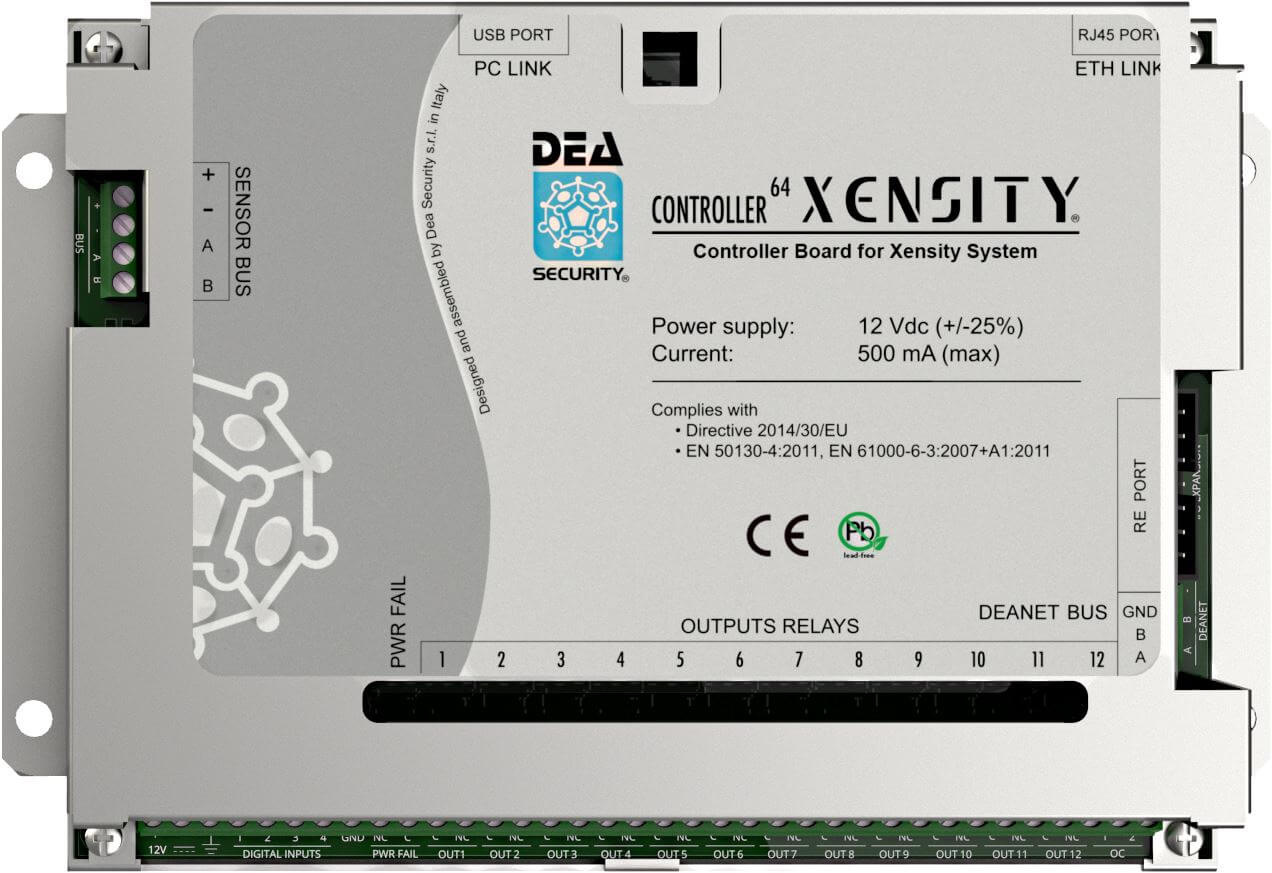 Control board for 32 or 64 sensors/peripheral devices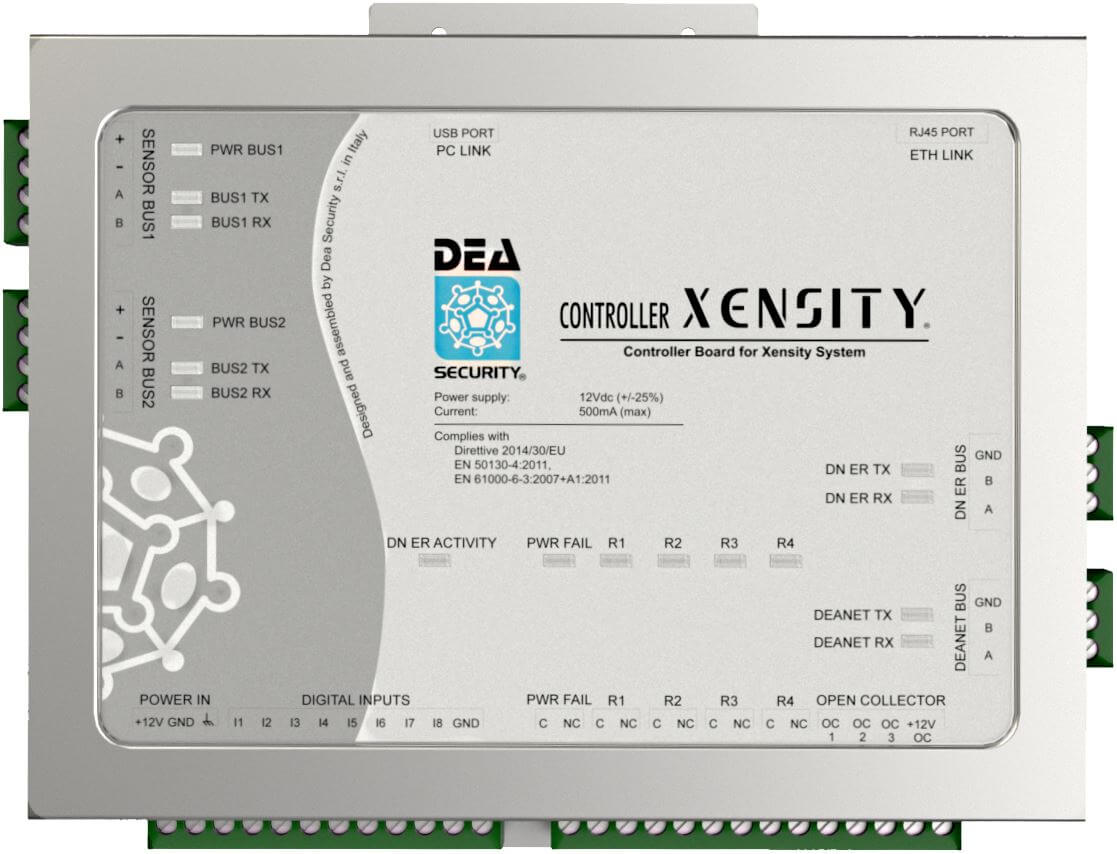 The relay expansion boards extend the number of alarm outputs of the controllers and allow you to assign such outputs (C/NC contacts) to different signals: alarm, failure and/or tamper. A single expansion board provides 16 external relay outputs and each controller can manage – depending on the model – from 4 to 8 expansions.
All the external relays can be programmed through the service software provided with the controller boards.
16-relay expansion board for controller 128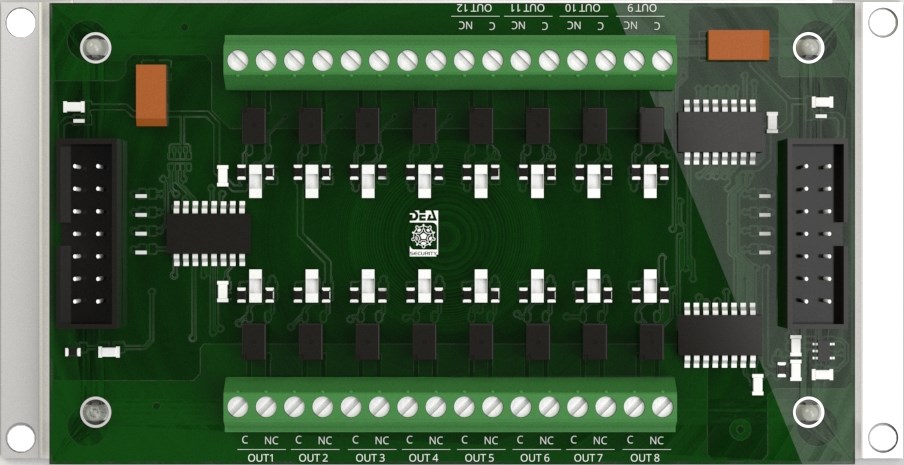 16-relay expansion board for controller 32/64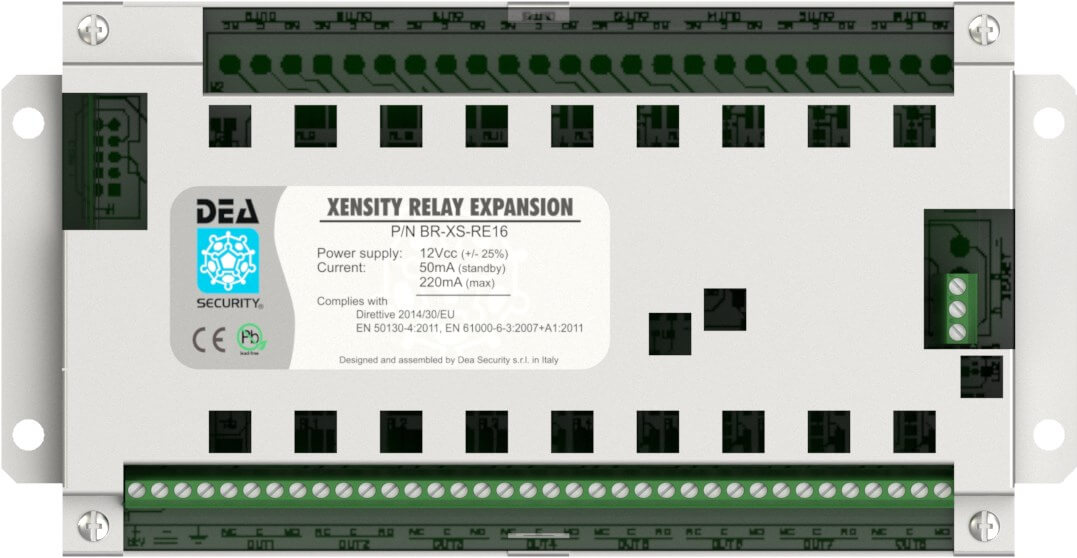 XENSITY service software enables you to manage the system from a locally connected laptop (USB or Ethernet port) or from remote station over IP network. By software you can:
acquire all the sensors, the relays and the peripheral devices in an automated way;
calibrate and program the sensors with few mouse clicks;
monitor the operating parameters of the system, such as voltage, current and link quality;
check the status of the digital inputs and relay outputs;
view the alarm signals on a real-time 3D graph;
quickly check the correct functioning of each sensor or detection module;
view or download the alarm event log.
DIAGRAM OF A TYPICAL SYSTEM
ANY QUESTIONS?
CONTACT US!
Via Bolano, snc
Santo Stefano di Magra
La Spezia - Italy

© DEA Security S.r.l. - Via Bolano, snc - 19037 Santo Stefano di Magra (SP) - Italy - Tel.: +39 0187 699233 - Fax: +39 0187 697615 - P. IVA, C.F. e R.I.: 00291080455 - N. REA SP-117344 - Capitale sociale: 106.000,00 € i.v.
© DEA Security S.r.l. - Via Bolano, snc - 19037 Santo Stefano di Magra (SP) - P. IVA, C.F. e R.I.: 00291080455 - N. REA SP-117344 - Cap. soc.: 106.000,00 € i.v.
© DEA Security S.r.l.
Via Bolano, snc - 19037 Santo Stefano di Magra (SP)
P. IVA, C.F. e R.I.: 00291080455 - N. REA SP-117344
Capitale sociale: 106.000,00 € i.v.